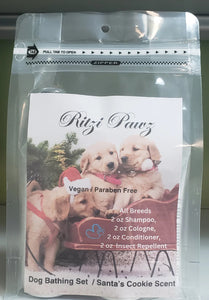 This 4 piece set includes 2 oz bottles of Shampoo, Conditioner, Cologne & Insect repellent.
The Ritzi Pawz Dog product line is natural, amazing - scented, grooming products for dogs, featuring a unique blend of effective ingredients, long lasting & extra gentle that delivers the results that every Dog lover and groomers expect. 
This set makes a great gift or stocking stuffer item.