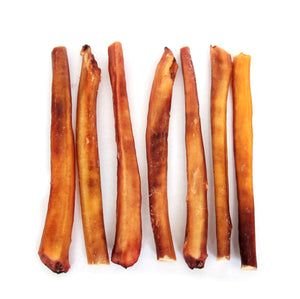 Recommended for: All life stages of dogs weighing 50+ lbs. Especially great for "power chewers" who seem to go through regular bully sticks a little too quickly.
Chew Time: A long lasting chew for most dogs weighing up to 80 lbs.
Will NOT smell while your dog is chewing it. Great for anxious or active dogs, as chewing calms dogs down and relieves stress. Most big dogs like Labs, shepherds, pit bulls, etc will chomp down a normal skinny bully stick like it's nothing - this 12" jumbo bully stick is durable enough to stand up to heavy chewing.